Kyle Abraham / Abraham.In.Motion
When The Wolves Came In
Award-winning choreographer and performer Kyle Abraham presents an evening-length program of new work inspired by jazz great Max Roach's We Insist Freedom Now. The performance features&nbsp... More
About this performance
When The Wolves Came In
Award-winning choreographer and performer Kyle Abraham presents an evening-length program of new work inspired by jazz great Max Roach's We Insist Freedom Now. The performance features Hallowed, set to a series of spiritual hymns; The Gettin', an ensemble work created in collaboration with Grammy award-winning jazz musician Robert Glasper and world renowned visual artist Glenn Ligon; and When the Wolves Came In, an ensemble work for six dancers set to the music of the acclaimed American contemporary composer Nico Muhly.
Performance: Mar 4, 2015

Venue: The Moore Theater | Seattle, WA

Duration: 64 min

Posted: Jun 2, 2016
Cast & Credits
| | |
| --- | --- |
| Choreographed by | Kyle Abraham in collaboration with Abraham.In.Motion |
| Lighting and Video Design by | Dan Scully |
| Scenic Design by | Glenn Ligon |
| Sound Editing by | Sam Crawfords |
| Production Manager | Dan Stearns |
| Choreographic Associate | Matthew Baker |
| Rehearsal Assistant | Tamisha Guy |
| When the Wolves Came In | |
| Performed by | Matthew Baker, Tamisha Guy, Hiroki Ichinose, Catherine Ellis Kirk, Jordan Morley, Penda N'diaye, Connie Shiau |
| Music by | Nico Muhly |
| Costumes by | Reid Bartelme |
| Hallowed | |
| Performed by | Tamisha Guy, Catherine Ellis Kirk, Jeremy "Jae" Neal |
| Music by | Cleo Kennedy, Bertha Gober |
| Costumes by | Reid Bartelme |
| The Gettin' | |
| Performed by | Matthew Baker, Vinson Fraley, Tamisha Guy, Catherine Ellis Kirk, Jeremy "Jae" Neal, Connie Shiau |
| Music Composed by | Robert Glasper |
| Music by | The Robert Glasper Trio |
| Costumes by | Karen Young |
About The Artist
A 2013 MacArthur Fellow, Kyle Abraham began his dance training at the Civic Light Opera Academy and the Creative and Performing Arts High School in Pittsburgh, Pennsylvania. He continued his dance studies in New York, receiving a BFA from SUNY Purchase and an MFA from NYU Tisch School of the Arts. In November 2012, Abraham was named the newly appointed New York Live Arts Resident Commissioned Artist for 2012–2014. Just one month later, Alvin Ailey American Dance Theater premiered Abraham's newest work, Another Night, at New York's City Center to rave reviews. Rebecca Bengal of Vogue writes, "What Abraham brings to Ailey is an avant-garde aesthetic, a original and politically minded downtown sensibility that doesn't distinguish between genres but freely draws on a vocabulary that is as much Merce and Martha as it is Eadweard Muybridge and Michael Jackson." That same year, Abraham was named the 2012 Jacob's Pillow Dance Award recipient and 2012 USA Ford Fellow.
The mission of Kyle Abraham/Abraham.In.Motion is to create an evocative interdisciplinary body of work. Born into hip-hop culture in the late 1970s and grounded in Abraham's artistic upbringing in classical cello, piano, and the visual arts, the goal of the movement is to delve into identity in relation to a personal history. The work entwines a sensual and provocative vocabulary with a strong emphasis on sound, human behavior and all things visual in an effort to create an avenue for personal investigation and exposing that on stage. A.I.M. is a representation of dancers from various disciplines and diverse personal backgrounds. Combined together, these individualities create movement that is manipulated and molded into something fresh and unique.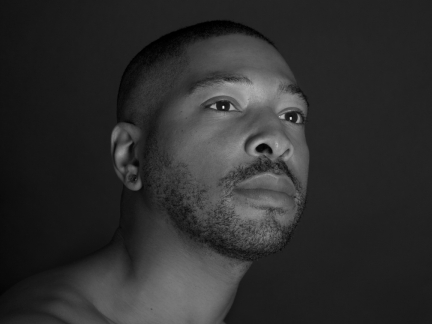 Photo: Kyle Abraham by Carrie Schneider
Reviews
"Are the dancers aliens from another planet or some form of exotic animal life? Abraham keeps us guessing, allowing us to imbue the action with our own interpretation and meaning." - The Seattle Times
"...When the Wolves Came In takes on nothing less than civil rights, and it's one of the most provocative, puzzling, and engrossing dance programs to hit Boston in some time." - The Boston Globe