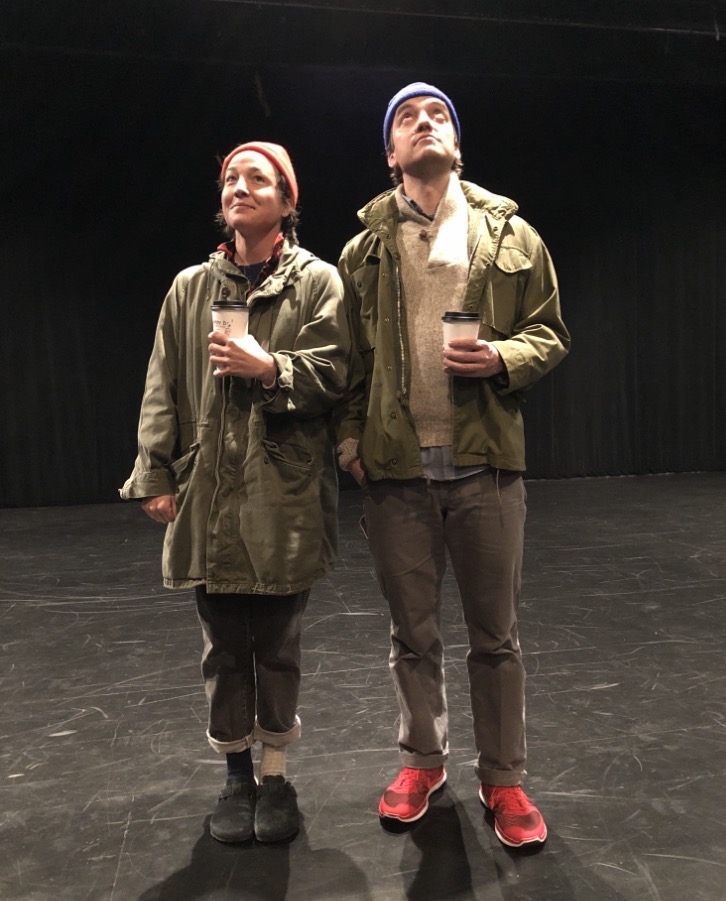 Frank Boyd is a New York based actor and writer. Original works include The Holler Sessions (On the Boards, Guthrie Theater, Noorderzon Festival, COIL Festival, Detroit Public Theatre) and Patti & the Kid (On the Boards). He has performed with Elevator Repair Service in Gatz, with Half Straddle in Is This A Room, with Young Jean Lee's Theater Company in Straight White Men, and with the TEAM in Architecting. Frank is currently developing a show about baseball that takes place in post-apocalyptic Iowa.
Libby King is a Brooklyn based queer actor, writer, and mom. Recently King was seen at ACT's the Strand Theatre in Men on Boats and co-wrote and performed in the world premiere of Patti & the Kid at On the Boards in Seattle, WA. King is a member of the acclaimed Brooklyn theatre company the TEAM. For over a decade she has helped author and perform in award-winning published works. Her commitment to new work extends throughout her career, performing in premiers across the country; most notably, 27 by Abi Morgan, Tectonic Theatre Company's The Laramie Project Cycle art BAM, and working with the SITI Company, 600 Highwaymen, the National Theatre of Scotland. She is currently writing her first full length play "Mom. Gone. Grass." and working on a one woman show "we found Amelia Earhart (and she's in the WILD)"
---
Patti & the Kid
Patti & The Kid
Premiered at On the Boards April 12-15, 2018
Created by Frank Boyd and Libby King
Written by Frank Boyd, Libby King and Maya Flory-Barnes Salas
Consulting Director/Collaborator: Jenny Koons
Lighting Design: Amiya Brown
Sound Design: Nila K Leigh
Stage Management: Ruth Eitemiller and Tori Thompson
Dramaturg: Sally Ollove
Assistant Stage Manager: Oliver Adinolfi
Development of Patti & The Kid was supported by On the Boards, Base (2017 Residency Program), Seattle Repertory Theatre, Z Space, Seattle Office of Arts & Culture, and San Francisco Recreation & Park
Special thanks to Lane Czaplinski, Elena Flory-Barnes, Jaime King, Julien King, Nila K Leigh, Dayna Hanson, Mighty Lucky Studio, Lisa Steindler, Clove Galilee, Bushwick Starr, Allison Burke, Reggie Jackson, Celeste Reed, Amanda Ilc, Evan Flory-Barnes, Terry King, Kristin Leahey, Lucia Scheckner, Bobbin Ramsey, Maggie Rogers, Kaytlin McIntyre, Evan Johnson, Josh Aaseng, Em Watson.
Frank and Libby would like to thank all the people who donated to their fundraising campaign. And all the baristas and bartenders.