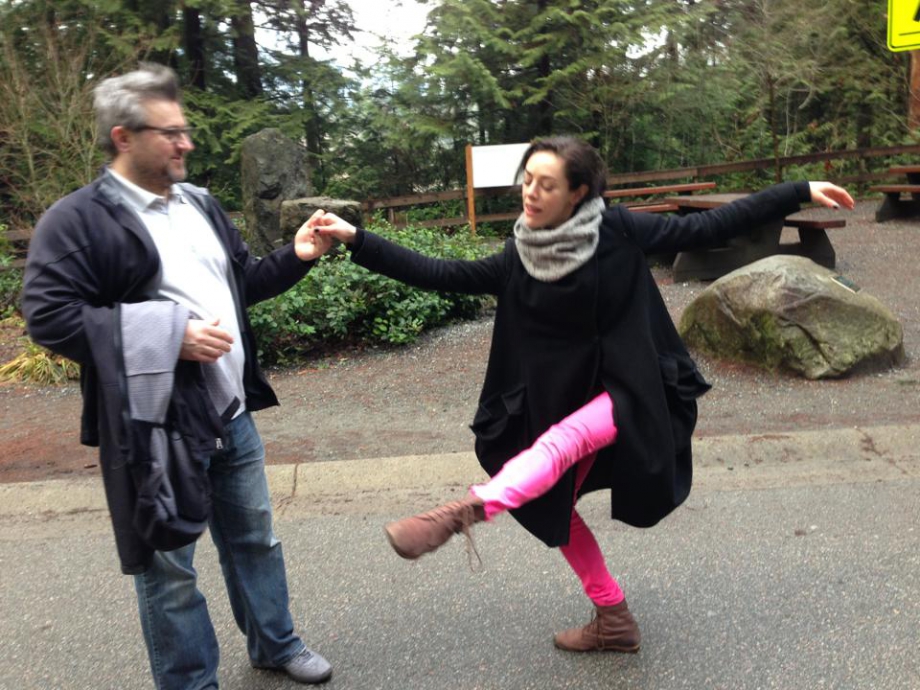 zoe | juniper is driven by the idea of mythologizing the experience of our senses; creating performances and visual art that challenge the viewer's perception of time and perspective as well as allowing their work's intention to be spacious enough for empathetic experiences to emerge. Their work realizes and exists in the state of liminality- the sense of being 'in-between'. By working across different disciplines, Zoe Scofield and Juniper Shuey filter our sensual experiences into the mediums that best embody a facet of the myth their overall concept is based on. The collaboration between Juniper and Zoe is defined by having visual and choreographic designs work in tandem so that aesthetics and form become seamless. The purpose of their collaboration is to immerse the audience in the conjunction of the physical and fantastical realms. zoeandjuniper.com
As a visual artist and choreographer, Juniper and Zoe are drawn together as collaborators by their respect for and subverted use of classical form, aesthetic clarity and the desire to create a sense of heightened reality. Zoe Scofield and Juniper Shuey began their collaboration in 2004 with I am nothing without you, for On the Boards' NW New Works Festival 2005. Spectrum Dance Theater, the Frye Art Museum and Ten Tiny Dances have commissioned the in company 2007, 2008 and 2009 respectively. Zoe, Juniper and composer/musician Morgan Henderson were the co-creators of the Secret of Gold Festival in 2006, an annual multi-disciplinary arts festival in Arlington, WA. They received a NPN Creation Fund and Residency commission, and a National Dance Project Production Grant (2008-2009) for their work the devil you know is better than the devil you don't. zoe | juniper are recipients of an Artist Trust Fellowship and GAP grant and received a National Dance Project Production Grant (2009-2010), NPN Creation Fund and Trust for Mutual Understanding and Dance Theater Workshop Suitcase Fund Grant for A Crack in Everything which Premiered in 2011 at Jacob's Pillow and will tour throughout 2013.
Zoe Scofield is a dance and visual artist based in Seattle Washington since 2002. Born and raised in Gainesville GA, Zoe began ballet at a young age, instilling in her a deep love and interest in structure, discipline and performances' ability to create a transformative experience. Zoe attended Walnut Hill School for the Arts, an arts high school in Boston MA, receiving a Monticello Choreography Fellowship and graduating with high honors in dance. After, she danced with Prometheus Dance in Boston and Atlas Moves, directed by Bill James in Toronto Canada.
Born in California, Juniper Shuey is a visual artist based in Seattle WA since 1997. Juniper went to Emerson College in Boston, studying set and lighting design for three years. He then transferred to Ceramics at the University of Washington where the faculty allowed him to develop his art in performance and clay. This developed into the use of video projection into space as a sculptural element in his work. Juniper's work has been published in several art books including SOIL Artist, Lava, and Fashion is ART. His video installations, photographs and performances have been shown both nationally and internationally including Italy, Budapest, NYC, Houston, Seattle, Portland and Christchurch, New Zealand. Juniper has participated on several professional art panels including New England Foundation for the Arts, The MacArthur Foundation and a professional practices panel discussion at the University of Washington. In 2004 Juniper received the Curators Choice Award at Tacoma Art Museums Northwest Biennial. In 2005 he had his first solo gallery exhibition at Howard House in Seattle and in 2006 he won the People's Choice Award in Bellevue Art Museum's Northwest Biennial. Juniper was a fellow at The MacDowell Colony in 2010 and won the 2013 Stranger Genius Award for Performance with collaborator Zoe Scofield.
"...may be the most impressive dance/sound/visual spectacle to come from a Seattle creative troupe this year." - Seattle Times
---