Dani Tirrell
Black Bois
Enter a world where Black bodies tell their own stories. Where Black love and Black expression prevail. A world where Black stories heal, grow, and transform the lives they touch. Featuring live... More
About this performance
Black Bois
Enter a world where Black bodies tell their own stories. Where Black love and Black expression prevail. A world where Black stories heal, grow, and transform the lives they touch. Featuring live music, collaboration with a large cast of local artists/performers, and installations, this performance project celebrates Black bodies in space and an emotional engagement with movement. Black Bois is a love letter to Black bodies, minds, and spirits.
Artist Dani Tirrell writes: "This dance piece, created with original music by Benjamin Hunter and written word by J Mase III, is a ceremony to our ancestors, and thanksgiving to our past, present, and future. It is a love letter to our bodies, our spirits, and our minds. This is the story of our fathers, brothers, lovers, and friends. A healing space, a space to process, a space to love, a space to create and be. We welcome you!"
Performance: February 14, 2020

Venue: On the Boards | Seattle, WA

Duration: 1 hour, 26 minutes

Posted: Mar 15, 2021
Cast & Credits
Cast/Collaborators
David Rue, Randy Ford, "Majinn" Mike O'Neal, Markeith Wiley, Stefan Richmond, Kyle Bernbach, Mycheal Hodges, Cipher Goings, marco farroni, Robert Moore, Gilbert Small, Brian J. Evans, Saulyman Corr
Musicians
Camilo Estrada, Chris Patin Darrius Willrich, Okanomodé, Thione Diop
Choreography/Concept/Direction
Dani Tirrell
Collaborators
Composer/Musical Director
Benjamin Hunter
Poet/Writer
J Mase III
Lighting Designer
Amiya Pennbaker-Brown
Sound Designer
DR Amromin
Photos
Naomi Ishisaka and Michael B. Maine
Production
Zithri Saleem and Marlon Brown
Credits
Black Bois began with funding from 4Culture through an Individual Artist Grant. It was developed at On the Boards through the Performance Production Program and made possible by the Andrew W. Mellon Foundation and the National Endowment for the Arts. This performance is also funded by ArtsWA.
About The Artist
Dani Tirrell (Seattle, WA) is a Black, Queer choreographer, dancer and movement guide. Dani has guided people in Detroit and Seattle as well as sharing movement practices in other cities in the United States. Currently Dani is the curator for the 2019/2020 season of Central District Forum for Arts and Ideas, this is Dani's second season as curator. Dani is the host and co-creator of Sunday Dinners.
Dani is the founder and current artistic director of The Congregation a movement/art group. Dani is currently teaching at Northwest Tap Connection and University of Washington Seattle campus and Bothell campus (fall 2019). Dani has created work for Dance This (Northwest Tap Connection), Strictly Seattle (advance/professional track), Seattle Repertory Theater, Nina Simone Four Women (Directed by Valerie Curtis-Newton).
In August of 2019, Dani received Seattle's Mayor's Arts Award. Dani is the Artist in Residence at Velocity Dance Center (2020/2021) and one of 6 Artists in Residence at On the Boards (Seattle, WA)
Dani also was at the helm of four sold out shows for Dani's production of Black Bois (On the Boards).
In 2019 Dani was the recipient of an Artist Trust Fellowship Award and a Dance Crush Award for Black Bois (performance). Dani also received a 2018 Arts Matter Fellowship grant. Dani's current work FagGod in collaboration with Anastasia Renee and Naa Akua was presented in Central District Forum for Arts and Ideas 2019/2020 season.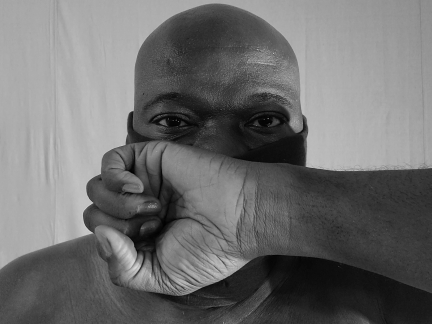 Embed Code
Paste this code onto your website to share the Vimeo hosted trailer for this performance.