Kaneza Schaal & Cornell Alston
JACK &
JACK & is a comedy of errors structured on social codes and trainings, from prison reentry programs to African American debutante balls. Conceived and directed by Kaneza Schaal, a veteran... More
About this performance
JACK &
JACK & is a comedy of errors structured on social codes and trainings, from prison reentry programs to African American debutante balls. Conceived and directed by Kaneza Schaal, a veteran performer with Elevator Repair Service and The Wooster Group, JACK & combines influences from aspirational class stories found in 1950s sitcoms, real and imagined entering-society ceremonies, and tigers in Harlem to build a portrait of a dream interrupted and resumed. Exploring markers of transition and transformation, JACK & considers the measureless damages of being in prison—not the amount of time one has served but the amount of one's dreaming that is given to the state.
Performance: May 11, 2018

Venue: On the Boards

Duration: 75 min.

Posted: Nov 9, 2018
Cast & Credits
| | |
| --- | --- |
| Created and Directed by | Kaneza Schaal |
| Starring | Cornell Alston |
| In collaboration with | Modesto Flako Jimenez, Rucyl Mills, and Stacey Karen Robinson |
| Design | Christopher Myers |
| Sound | Rucyl Mills |
| Light | Megan Lang and Ashley Vellano |
| Text | Christopher Myers (Part I), Christopher Myers and Jackie Sibblies Drury (Part II), Keisha (Part III) |
| Design and Production Associate | Cheyanne Williams |
| Stage Manager | Clarissa Marie Ligon |
| Producer | Rachel Silverman |
| Producer | Jane Jung |
| Contributing Artists | Robert Chappelle, Daphne Gaines, Yahhkhem Hyman, April Matthis, and Naomi Saito |
About The Artist
Kaneza Schaal is a New York City-based theater artist. Her recent work GO FORTH premiered at Performance Space New York and then showed at the Genocide Memorial Amphitheater in Kigali, Rwanda. In Fall 2017 GO FORTH was presented at Contemporary Arts Center New Orleans and in Cairo, Egypt at the International Contemporary Theater Festival. Schaal received a 2017 MAP Fund award, 2016 Creative Capital Award, and is the current Aetna New Voices Fellow at Hartford Stage. Schaal's work has been supported by Baryshnikov Arts Center, Performance Space New York, Lower Manhattan Cultural Council, Nathan Cummings Foundation, Foundation for Contemporary Arts, Theater Communications Group, and a Princess Grace George C. Wolfe Award. Her work with The Wooster Group, Elevator Repair Service, Richard Maxwell/New York City Players, Claude Wampler, and Dean Moss has brought her to venues including Centre Pompidou, Royal Lyceum Theater Edinburgh, The Whitney Museum, and Brooklyn Academy of Music.
Cornell Alston is a longtime member of Rehabilitation Through the Arts, a not-for-profit that uses the arts as a springboard to teach life skills to individuals both inside and outside of state correctional facilities. He initiated the Youth Empowerment Through the Arts initiative that launched in Queens NY, and he continues to work as an arts-in-education advocate. Alston performed and collaborated with Kaneza Schaal on PLEASE, BURY ME at Baryshnikov Arts Center and GO FORTH during a Performance Space 122, RAMP residency. Other performance highlights include: One Flew Over the Cuckoo's Nest, 12 Angry Men, and the title role in Ma Rainey's Black Bottom.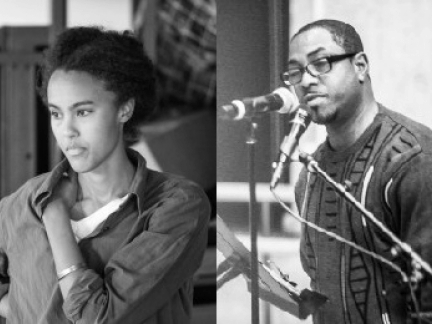 Embed Code
Paste this code onto your website to share the Vimeo hosted trailer for this performance.