Dani Tirrell | Zoe Scofield
Master Class
Our first-ever video Master Class with Seattle dance-makers Zoe Scofield and Dani Tirrell. This class explores the rich similarities and differences between these two choreographers making work in... More
About this performance
Master Class
Our first-ever video Master Class with Seattle dance-makers Zoe Scofield and Dani Tirrell. This class explores the rich similarities and differences between these two choreographers making work in Seattle. A dancer's "Behind the Actors Studio", this class invites viewers into the conversation where Dani and Zoe discuss dance philosophies, teaching methodologies, their love-hate relationship to ballet, and strong feelings about unison.
This project made possible with support from Doris Duke Charitable Foundation, National Endowment for the Arts, 4 Culture, and the University of Washington's Department of Dance.
Made in partnership with Reel Grrls Pro.
Performance: May 13, 2018

Venue: Seattle, WA

Duration: 30 min

Posted: Oct 24, 2019
Cast & Credits
| | |
| --- | --- |
| Featuring | Dani Tirrell |
| | Zoe Scofield |
| Dance Artists | Kyle Bernbach |
| | Shane Donohue |
| | Kyki Li |
| | Kim Lusk |
| | Michael O'Neal Jr. |
| | Alexander Quetell |
| | Victor Sanchez |
| | Gilbert Small II |
| | Jhon Stronks |
| | Madeline Townsend |
About The Artist
Dani Tirrell creates movement pieces inspired by Dani's queer, gender non-conforming, and Black experience. Dani has danced with Jazz and Spirit Dance Theater of Detroit, Monroe Ballet Company, and Dani Tirrell Dance. Dani has performed and shown work at Black Choreographers Festival (San Francisco), Showing Out: Black Contemporary Choreographers (Seattle), Young Tanz Sommer (Austria), Northwest New Works Festival: On the Boards (Seattle), and Erased (Color Lines Dance Ensemble) as part of Nights at the Neptune (Neptune Theatre, Seattle), among many others.
2015 Guggenheim Fellow Zoe Scofield is a dance and visual artist based in Seattle Washington since 2002. Born and raised in Gainesville GA, Zoe began ballet at a young age, instilling in her a deep love and interest in structure, discipline and performances' ability to create a transformative experience. Zoe attended Walnut Hill School for the Arts, an arts high school in Boston MA, receiving a Monticello Choreography Fellowship and graduating with high honors in dance. After, she danced with Prometheus Dance in Boston and Atlas Moves, directed by Bill James in Toronto Canada. Zoe earned an MFA in Dance from the University of the Arts as part of their inaugural class.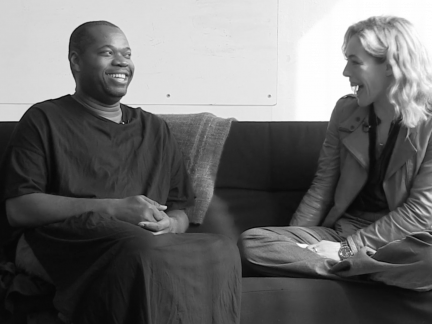 Embed Code
Paste this code onto your website to share the Vimeo hosted trailer for this performance.