Ezra Dickinson
Psychic Radio Star
Outer space meets schizophrenia in this work made as a gift for a self-described psychic radio star. For over ten years, Seattle dance artist Ezra Dickinson has created emotionally powerful solo... More
About this performance
Psychic Radio Star
Outer space meets schizophrenia in this work made as a gift for a self-described psychic radio star. For over ten years, Seattle dance artist Ezra Dickinson has created emotionally powerful solo dance performances as gifts for his schizophrenic mother. Psychic Radio Star is a culmination of these gifts: a mixture of childhood memories, mythologies, an extraordinary imagination, and Dickinson's virtuoso talents in dance and visual art. Providing a voice for his mother's experiences while also telling his own story, Dickinson aims to open a space for conversations about mental health and the failed health care system in the USA.
Performance: Nov 3, 2016

Venue: On the Boards | Seattle, WA

Duration: 53 minutes

Posted: Feb 23, 2017
Cast & Credits
| | |
| --- | --- |
| Conceived and performed by | Ezra Dickinson |
| Set Designer/Artistic Producer | Jennifer Zeyl |
| Lighting Designer | Jessica Trundy |
| Costume Designer | Danielle Blackwell |
| Composer | Paurl Walsh |
| Video Designer | Leo Mayberry |
| Technical Director | Adam Michard |
| Stage Manager | Steven Carlino |
| Speciality Fabricators | Erik Andor/Andor Studios & Tim Stackpole/Stackpole Design |
| Fish Drop Painter | Weirdo |
| Shadow of the Law (in video) | Kaleb Kerr |
| Second half of soul (in video) | Benjamin Maestas |
| | |
| | |
About The Artist
Ezra Dickinson began dancing at the age of four, going on to study at Pacific Northwest Ballet for twelve years on full scholarship. Ezra earned his BFA in Dance with an emphasis in choreography from Cornish College of The Arts. While at Cornish, Ezra was the recipient of The Merce Cunningham Scholarship, The Kreielshimer Scholarship, and The President's Scholarship in Dance. Dickinson's original work in choreography, film, and movement installations have been on display at TEDX Rainier, SIFF, Jaipur International Film Festival, Mumbai Shorts, among others. His most recent dance work, Mother for you I made this continues to receive wide-spread critical acclaim.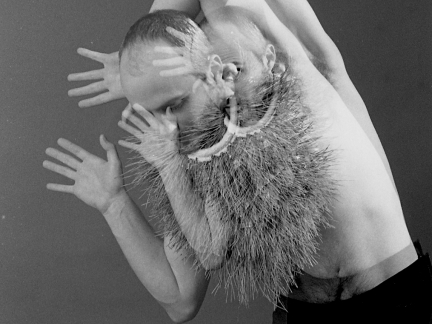 Embed Code
Paste this code onto your website to share the Vimeo hosted trailer for this performance.