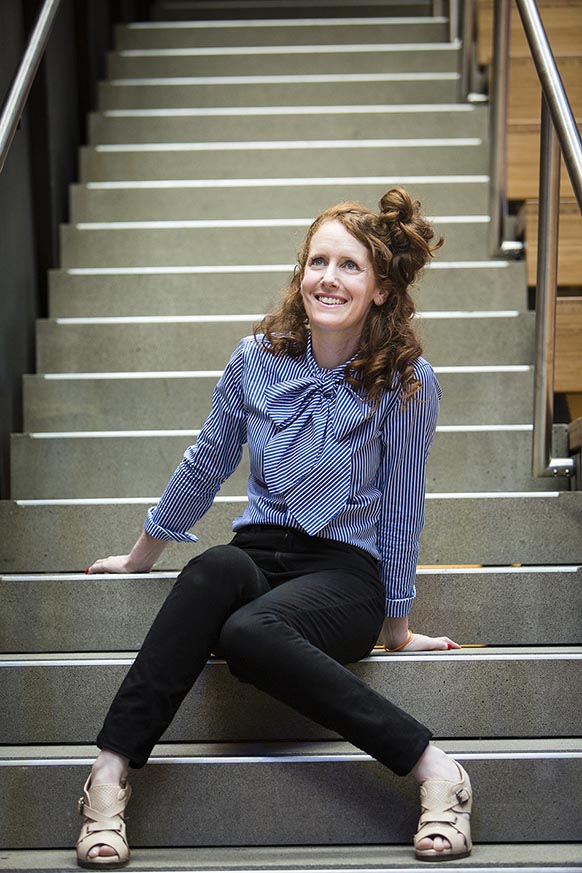 Tina Satter is a Brooklyn-based writer and director who makes plays, performances, videos, and music. She is Artistic Director of the theater company Half Straddle founded in 2008 and awarded an Obie grant in 2013. Her most recent show, House of Dance, about a transgender tap student, opened in October 2013 commissioned by New York City Players' American Playwrights Divison and was named a New York Times Critic's Pick. Her play, Seagull (Thinking of you) premiered at PS122's 2013 COIL Festival following residencies at MASS MoCA, New Museum, and Abrons Art Center — and is touring in France and Croatia. Her show In the Pony Palace/FOOTBALL was named a Top 10 Show of 2011 by PAPER Magazine, among other honors, and FAMILY was named a Top 10 show of 2009 by Time Out New York. Her work has been curated into seasons at The Kitchen, PS122, Incubator Arts Project, the Bushwick Starr, Prelude Festival, and Ice Factory Festival. Her play Away Uniform had its European premiere at Culturgest in Lisbon, Portugal in October 2013.
Tina was named a "2011 Off-Off Broadway Innovator to Watch" by Time Out New York, was a 2013 Kitchen L.A.B. resident, and featured director at Culture Project's 2011 Women Center Stage Festival. She has been a guest artist at Princeton University, Reed College, and Fordham University. Tina attended Mac Wellman's graduate playwriting program at Brooklyn College and received a B.A. in English from Bowdoin College and an M.A. in Liberal Studies from Reed College.
---
---
Excerpt from Ghost Rings ("Map of the Area")
This of the songs from our show Ghost Rings, was a art-girl-band reckoning with romantic friendship, intimacy, and sisterhood. Featuring Erin Markey, Kristen Sieh, Chris Giarmo (co-composer and keys), and me on drums. This show premiered at New York Live Arts in 2016, and toured to Luminato, TBA, Philly FringeArts, Stanford Live.
"Secret Notebooks"
Music video for an original song we made in 2011. Features Erin Markey, Emily Davis, Pete Simpson, and lots of other Half Straddle people. Lyrics and direction by Tina Satter. Music by Bobby McElver. Cinematography and Editing by Michael De Angelis.
Theater Company: Cadences
Theater Company: Cadences 2
Cadences and Cadences 2 are video art compilations that edit together a range of Half Straddle footage from years of rehearsals, video projects, our web series, etc. to show the actors and an ensemble in space over time as people age and the work changes. The piece reflect on repeated themes, aesthetics, etc. of the company's work. Cadences has sound. Cadences 2 has no sound and uses onscreen text and subtitles.