Temporary Distortion
Americana Kamikaze
NYC's genre-bending Temporary Distortion mines the worlds of Japanese ghost stories and J-Horror in Americana Kamikaze. Inside one of Temporary Distortion's signature box structures, an East-meets... More
Extras
About this performance
Americana Kamikaze
NYC's genre-bending Temporary Distortion mines the worlds of Japanese ghost stories and J-Horror in Americana Kamikaze. Inside one of Temporary Distortion's signature box structures, an East-meets-West psychological horror story unspools, complete with vengeful spirits, impossible physical manipulations, elliptical storylines, nightmarish cinematography and stunning visuals. Temporary Distortion has been making new works that seamlessly blend theater, cinema and installation since 2002. Their work has been presented in the US, Canada, France and Austria.
Presented by Performance Space 122.
Performance: Nov 13, 2009

Venue: Performance Space 122 | New York, NY

Duration: 70 min

Posted: Nov 18, 2009
Cast & Credits
Co-creators
Kenneth Collins
William Cusick
Written & Directed by
Kenneth Collins
Cast
Brian Greer Yuki Kawahisa Lorraine Mattox Ryosuke Yamada
Video Projections
William Cusick
Cameos
Peter Blomquist Stephanie Silver
Costumes
TaraFawn Marek
Music & Sound
John Sully
Set & Lights
Kenneth Collins
Motion Graphics
Jon Weiss
Casting
Jennifer Ajemian
Assistant Director
Jamie Poskin
Assistant Lighting Designer
Joe Cantalupo
Intern
Andrew Scoville
Technical Director
William Cusick
Photographers
Lauren Bentley
Andy Lachance
Richard Lowe
Trey Ratcliff
Jon Weiss
About The Artist
Temporary Distortion explores the potential tensions found between practices in visual art, theater, cinema, and music. The group works across and between disciplines to create performances, installations, films, albums, and works for the stage. Temporary Distortion was formed in 2002 by writer/director/designer Kenneth Collins when he began staging intimate performances in claustrophobic, life-size shadow boxes that eventually evolved into much larger, open-frame structures. These later stage constructions expanded the form of the shadow box and included numerous multifaceted assemblages made of industrial lights, microphones, speakers, television monitors, and video projection surfaces. In 2007 the company began work on a trilogy of film genre deconstructions merging theater and cinema. Most recently, Temporary Distortion's work has focused on long-duration, installation-based performance and live music. The company is based in New York City. Its work has been seen throughout North America, Europe, and Australia.
"Temporary Distortion just keep elevating their game. You could call that game sculptural video, or perhaps living set design, or maybe just multimedia ravishment." - TimeOut NY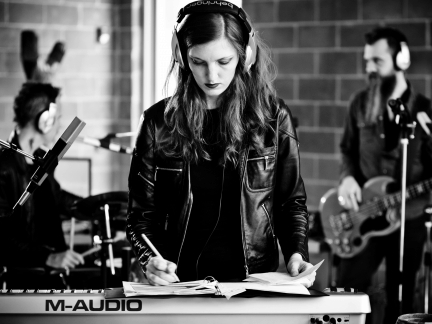 Embed Code
Paste this code onto your website to share the Vimeo hosted trailer for this performance.