Young Jean Lee
The Shipment
Playwright and director Young Jean Lee and a cast of 5 African-American performers create an unsettling terrain of well-trodden stereotypes that dare audiences to laugh as they consider their own... More
Extras
About this performance
The Shipment
Playwright and director Young Jean Lee and a cast of 5 African-American performers create an unsettling terrain of well-trodden stereotypes that dare audiences to laugh as they consider their own preconceptions about race and culture. One of the leading and most provocative voices in American contemporary theater, Lee pushes herself to new artistic heights as she confronts her fear about creating an ethnic identity play through the lens of a "black identity politics show."
Performance: Oct 3, 2009

Venue: On the Boards | Seattle, WA

Duration: 90 min

Posted: Nov 18, 2009
Cast & Credits
Written and directed by
Young Jean Lee in collaboration with Jordan Barbour, Mikéah Ernest Jennings, Okieriete Onaodowan, Prentice Onayemi, Douglas Scott Streater, and Amelia Workman
Produced by
Caleb Hammons
OMAR 1, SINGER 3, THOMAS
Aundré Chin
DANCER 2, MICHAEL 1, CRACKHEAD JOHN,
BAD COP 2 SASHAY, OMAR 2
Mikéah Ernest Jennings
DANCER 1, DESMOND, BILL THE RECORD
COMPANY EXECUTIVE, SINGER 2
Prentice Onayemi
STANDUP GUY, GRANDPA JOE, PAUL
THE EXTREME, BAD COP 1, MICHAEL
Douglas Scott Streater
MAMA 1, MAMA 2, VIDEO HO, DENISE,
WENDY, GRANDMA FROM HEAVEN,
THOMASINA, SINGER 1
Amelia Workman
Scenic Design by
David Evans Morris
Costume Design by
Roxana Ramseur
Lighting Design by
Mark Barton
Sound Design by
Matthew Tierney
Choreography by
Faye Driscoll
Stage Management by
Sam Seymour
Associate Lighting Designer / Lighting Supervisor
Raquel Davis
Sound Technician
Jason Sebastian
Additional Casting
Gita Reddy
About The Artist
Young Jean Lee is a writer and director who has been called "the most adventurous downtown playwright of her generation" by the New York Times and "one of the best experimental playwrights in America" by Time Out New York. She has written and directed nine shows in New York with Young Jean Lee's Theater Company and toured her work to over thirty cities around the world. She is a resident filmmaker at the Wooster Group, she's made an album, We're Gonna Die, with her band Future Wife, and she's directed the short film Here Come the Girls (Locarno International Film Festival, Sundance Film Festival). Her plays have been published by Theatre Communications Group (Songs of the Dragons Flying to Heaven and Other Plays, The Shipment and Lear) and by Samuel French (Three Plays by Young Jean Lee). She is currently under commission from Lincoln Center Theater, Playwrights Horizons, and the Oregon Shakespeare Festival, and recently completed a screenplay commission for Plan B/Paramount Pictures. She has received grants from the Foundation for Contemporary Arts, Creative Capital, NYFA, NEA, NYSCA, the Jerome Foundation, the Greenwall Foundation, and the Rockefeller MAP Foundation. She is also the recipient of two OBIE awards, the Festival Prize of the Zuercher Theater Spektakel, a 2010 Prize in Literature from the American Academy of Arts and Letters, a 2011 Guggenheim Fellowship, a 2012 Doris Duke Artist Award, and a 2013 Doris Duke Artist Residency. She is currently working on her new show, STRAIGHT WHITE MEN, which will premiere at the Wexner Center and Public Theater in 2014, as well as her second short film, A Meaning Full Life, starring Paul Lazar, Wallace Shawn, and Kate Valk.
"Young Jean Lee is, hands down, the most adventurous downtown playwright of her generation." – The New York Times
"She offers the pleasure of brazen theatrical inventiveness." – The New Yorker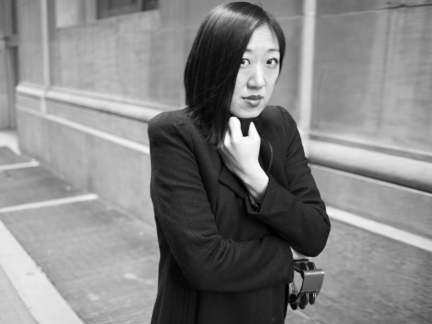 Reviews
"If there's any story that gets to the crux of what's at stake in Young Jean Lee's The Shipment, which may be the most important and challenging show playing in Seattle this season, this was it..." - The SunBreak
Embed Code
Paste this code onto your website to share the Vimeo hosted trailer for this performance.