Mariano Pensotti
El pasado es un animal grotesco
It's 1999 in Buenos Aires. Mario, Laura, Pablo, and Vicky are in their mid-twenties and ready for careers, love, and adulthood. Over the next decade, Argentina's economy will collapse and their... More
About this performance
El pasado es un animal grotesco
It's 1999 in Buenos Aires. Mario, Laura, Pablo, and Vicky are in their mid-twenties and ready for careers, love, and adulthood. Over the next decade, Argentina's economy will collapse and their lives will take a series of unexpected turns. In this fast-paced, multilayered "mega fiction," director Mariano Pensotti deftly unfolds the lives of these 4 characters. El pasado es un animal grotesco is a funny and moving portrait that takes place atop a slowly spinning turntable stage. Guided by a narrative voice-over, we are granted access to a string of defining moments in the touching and tumultuous lives of the group. Moments that illustrate how quickly and easily real life can transform into fiction and back again.
Performance: Feb 11, 2012

Venue: On the Boards | Seattle, WA

Duration: 110 min

Posted: May 30, 2012
Cast & Credits
Text & direction
Mariano Pensotti
Performers
Pilar Gamboa
Javier Lorenzo
Santiago Gobernori
María Ines Sancerni
Set & costume design
Mariana Tirantte
Light design
Matías Sendón
(& Ricardo Sica)
Music
Diego Vainer
Sound Engineer
Demian Chorovicz
Assistant director
Leandro Orellano
Technical and production assistant
Juan Pablo Gomez
About The Artist
Mariano Pensotti, a young director and writer based in Argentina, has become one of the most noted experimental directors throughout the world. His unique sets and depictions of life are told with a filmic sensibility honed in years studying cinema at the Dramatic Arts Instituto Universitario Nacional de Artes. For his work he has won the prizes Rozenmacher, Clarin and Premio F; and the schollarships Unesco-Aschberg, Rockefeller Foundation, Fundación Antorchas and Casa de América de Madrid.
"[Pensotti creates] a compelling portrait of the self-obsession of his own generation that achieves that rare feat of profoundly moving an audience without ever descending into trite stereotypes or easy sentimentalism...The production is also blisteringly funny."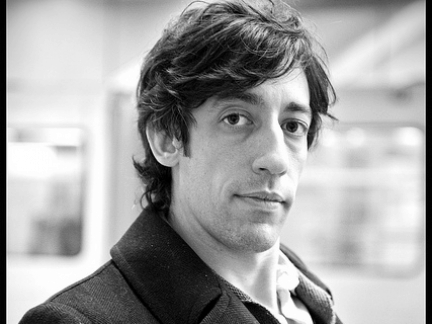 Reviews
Worth Seeing Twice
Mariano Pensotti's extraordinary production offers great rewards for multiple viewings. I was lucky enough to catch the show at the Public Theatre's Under the Radar Festival in New York last month, and then again last night at On the Boards.
Carousel
When I was in 6th grade, I was so hyped to go see Les Miz at the Playhouse Theater in Cleveland. Looking back, I'm embarrassed by my Broadway phase (as are so many of us) but there is one very clear image that remains with me from that production: Valjean and Javert in the sewer system.
The line between fiction and life becomes blurred as creation, re-creation, and the metamorphosis of oneself continues throughout the years. Argentine author and theater director Mariano Pensotti has created more than fifteen performances in the past ten years, among them El pasado es un animal grotesco.
Embed Code
Paste this code onto your website to share the Vimeo hosted trailer for this performance.