Radiohole
Whatever, Heaven Allows
Known for its radical and reckless theatricality, avant-garde New York troupe Radiohole's newest work is a star-spangled American meta-melodrama inspired by film director Douglas Sirk's 1950s... More
About this performance
Whatever, Heaven Allows
Known for its radical and reckless theatricality, avant-garde New York troupe Radiohole's newest work is a star-spangled American meta-melodrama inspired by film director Douglas Sirk's 1950s potboilers and Milton's epic Paradise Lost. Our heroine is an all-American "Eve" who must save her home from an evil-doer while struggling to find fulfillment in a lasting relationship with a supposedly good man who looks like god. Radiohole's newest synthesis of cultural flotsam is sure to be bawdy, silly, possibly transcendent, and a touch disturbed. 
Presented by Performance Space 122
Performance: Mar 6, 2010

Venue: Performance Space 122 | New York, NY

Duration: 80 min

Posted: Aug 13, 2010
Cast & Credits
WHA is performed by
Erin Douglass
Eric Dyer
Mark Jaynes
Maggie Hoffman
Joseph Silovsky
Video Maven
Aaron Harrow (a shark)
Lunar Technician
Michael Casselli
Technical Hegemony
Paul DiPietro
Sonic Solutions
Jason Sebastian
Timbreverberation
Raul Vincent Enriquez
Deer
Kourtney Rutherford
About The Artist
Radiohole was birthed in a Brooklyn basement in 1998 by Erin Douglass, Eric Dyer, Maggie Hoffman and Scott Halverson Gillette. The company has produced ten original shows that have been presented at venues around New York City including PS122, the Kitchen and the Collapsable Hole (sic) and have toured nationally and internationally. Radiohole's Whatever, Heaven Allows was commissioned by PS122, The Walker Art Center and the Andy Warhol Museum through the Spaulding Gray Award. Whatever, Heaven Allows had its European premiere in April 2012 at Katapult Teater at Godsbanen in Ãrhus, Denmark. Over the years, Radiohole has earned a reputation as one of New York's most tenacious and uncompromising ensembles. Radiohole is a recipient of the Spalding Gray Award, and has appeared at PS122 with Whatever Heaven Allows and Fluke.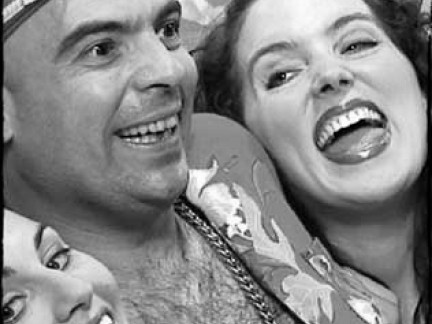 Reviews
No reviews have been posted.
Embed Code
Paste this code onto your website to share the Vimeo hosted trailer for this performance.