Temporary Distortion
Newyorkland
An assemblage of film, performance and visual art, Newyorkland follows 4 police officers struggling with the demands of their chosen profession and the high costs of working within the fraternal... More
About this performance
Newyorkland
An assemblage of film, performance and visual art, Newyorkland follows 4 police officers struggling with the demands of their chosen profession and the high costs of working within the fraternal and secretive society of the NYPD. Inspired by the gritty cop movies of the 1970s, popular TV police procedurals and real-life cop stories, the production is staged in one of Temporary Distortion's signature box-like structures. This installation serves as a framework for both the ensemble's uniquely restrained acting style and as a canvas for its intricate and gorgeous video.
Performance: Nov 19, 2011

Venue: On the Boards | Seattle, WA

Duration: 70 min

Posted: Mar 9, 2012
Cast & Credits
Direction, Set & Lighting Design
Kenneth Collins
Video Design & Direction

William Cusick

Stage Cast


Nick Bixby
Daniel Brown
Al DI Martino
Brian Greer

Film Cast

Ilan Bachrach
Nick Bixby
Charles Brice
Daniel Brown
Al Di Martino
Cara Francis
Ximena Garnica
Anthony Gaskins
Brian Greer
Elizabeth Hounsell
Sauda Jackson
Rodney Ladino
Sean Edward LEwis
Derek Lloyd
Lorraine Mattox
Annie Ng
Maria Oppedisano
Christopher Piccione
Walter Vincent
Jason Robert Winfield
Ryosuke Yamada

Associate Producers

Nick Sherman
Nick Bixby
Costumes
TaraFawn Marek
Music & Sound

John Sully
Technical Director
Joe Cantalupo
Technical Assistant
Scott Fetterman

Cpstume Assistant
Elizabeth Hounsell
Interns
Sean Shannon
Chase Voorhees

About The Artist
Temporary Distortion explores the potential tensions found between practices in visual art, theater, cinema, and music. The group works across and between disciplines to create performances, installations, films, albums, and works for the stage. Temporary Distortion was formed in 2002 by writer/director/designer Kenneth Collins when he began staging intimate performances in claustrophobic, life-size shadow boxes that eventually evolved into much larger, open-frame structures. These later stage constructions expanded the form of the shadow box and included numerous multifaceted assemblages made of industrial lights, microphones, speakers, television monitors, and video projection surfaces. In 2007 the company began work on a trilogy of film genre deconstructions merging theater and cinema. Most recently, Temporary Distortion's work has focused on long-duration, installation-based performance and live music. The company is based in New York City. Its work has been seen throughout North America, Europe, and Australia.
"Temporary Distortion just keep elevating their game. You could call that game sculptural video, or perhaps living set design, or maybe just multimedia ravishment." - TimeOut NY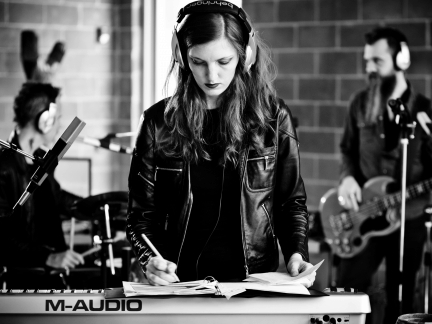 Reviews
Newyorkland Review Roundup
Here's a sampling of reviews from over the weekend about Newyorkland. Don't forget to also peruse the blogs for other audience reactions!
"...seamless and gorgeous..." - The Stranger
Much has been written about Temporary Distortion's now signature form. Those who come to Newyorkland for the purpose of seeing an assemblage in action will not be disappointed.
Embed Code
Paste this code onto your website to share the Vimeo hosted trailer for this performance.