Wunderbaum
Songs at the end of the world
"Antarctica is the last place where you may drop down, when you shake the earth and can't stay put anywhere else."Inspired by this quote from the documentary Encouters at the End of the World by... More
About this performance
Songs at the end of the world
"Antarctica is the last place where you may drop down, when you shake the earth and can't stay put anywhere else."
Inspired by this quote from the documentary Encouters at the End of the World by German filmmaker Werner Herzog, Wunderbaum and Touki Delphine will cooperate for a second time, six years after Lost Chord Radio. Wunderbaum, a Dutch-Flemish group of actors/musicians performs a high-energy concert spectacle about dreams, choices and possibilities set in Antartica.
These actors and musicians share a love for roaming, and stories about the homeless. They rewrote their lives using childhood photographs, sunk to the bottom of the world in their thoughts, and met their other selves in their dreams: the adventurers, scientists, professional dreamers and fulltime travellers who they, deep down, actually also are.
"Antarctica, the coldest and driest continent that covers Atlantis; the wind that always blows from the east. Emperor Penguins waddle past the research stations from Chile and Germany. Volcanologists sit on the edge of the Erebus: one of the exceptional volcanoes where you can see straight into the swirling magma of the earth. Reaching for the core of life via the largest possible circuitous route: this is also what our characters do in Songs at the end of the World. These are extreme phenomena in extreme circumstances, they lay bare existential desires. Musically and absurdly theatrical. Antarctica sings along. Antarctica, Antarctica. Hear us gasping, hear our breath freezing, hear our words." - Wunderbaum
Filmed at The Debra and Kevin Rollins Theatre at the Long Center for the Performing Arts
Presented by the Fusebox Festival


Performance: May 5, 2012

Venue: The Debra and Kevin Rollins Theatre at the Long Center for the Performing Arts | Austin, TX

Duration: 90 min

Posted: Oct 11, 2012
Cast & Credits
Concept & Performers
Walter Bart
David Corel
Wine Dierickx
Rik Elstgeest
Matijs Jansen
Bo Koek
John van Oostrum
Marleen Scholten
Dramaturgy
Willem de Wolf
Design
Maarten van Otterdijk
Costumes
Rebekka Wörmann
Roos Smith
Production
Wunderbaum
Veenfabriek / Touki Delphine
Coproduction
Rotterdamse Schouwburg, Theaterfestival Boulevard's-Hertogenbosch
About The Artist
Wunderbaum is a collective that makes plays on current topics, mostly on location, but also in theatre. A recurring theme in Wunderbaum's repertoire is the tension between ideologies and the difficult transition thereof to the actual daily reality.
The Wunderbaum actors are Walter Bart, Wine Dierickx, Matijs Jansen, Maartje Remmers and Marleen Scholten. They studied together at the Theatre Academy in Maastricht, after which they made ​​theater under the wings of Johan Simons' ZTHollandia and NTGent / Rotterdamse Schouwburg for seven years. Besides the actors, Wunderbaum consists of Maarten Van Otterdijk (design), Maartje van Doodewaard (financial director), Josine Gilissen (planning and acquisition), Carry Hendriks (production manager), Eva van den Hove (public relations and education) and Margreet Bergmeijer (office manager). In each project, Wunderbaum collaborates with other artistic teams, often from different disciplines such as music, art, film or architecture.
Rotterdam (Rotterdamse Schouwburg) is Wunderbaum's operating base and it is part of the coalition Theater Rotterdam. The theatre group can also often be found in Ghent (NTGent), Antwerp (Monty) and Amsterdam (Frascati/Stadsschouwburg). Wunderbaum is a regular guest at foreign festivals such as in Graz, Odessa, Istanbul, Teheran, Santarcangelo, Budapest, Los Angeles. Wunderbaum is subsidized by the Performing Arts Fund and City of Rotterdam, Department of Arts and Culture. Wunderbaum received the Mary Dresselhuys price in 2007 for their entire oeuvre. In 2010 they received the Prosceniumprijs of the VSCD.
"All in all, it is a catchy, youthful…like Werner Herzog filtered through the anthemic gaze of the Arcade Fire." – Austinist.com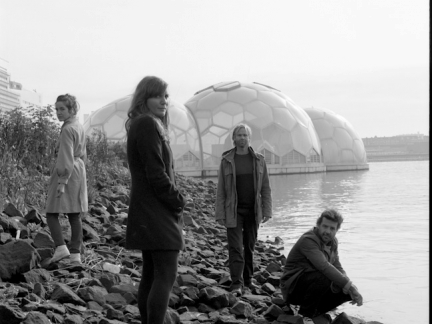 Reviews
No reviews have been posted.
Embed Code
Paste this code onto your website to share the Vimeo hosted trailer for this performance.