Reggie Watts & Tommy Smith
Transition
Transition is an absurd yet addictive mix of stereophonic effects, live video, geometric movement and improvisation created by comedic musician Reggie Watts and playwright/director Tommy Smith.... More
Extras
About this performance
Transition
Transition is an absurd yet addictive mix of stereophonic effects, live video, geometric movement and improvisation created by comedic musician Reggie Watts and playwright/director Tommy Smith. Watts' many talents—standup comedian, former front man of rock band Maktub, R&B soul singer and experimental performer—have made him an audience favorite at venues and festivals around the world. In recent years his collaborations with Smith, including performances at The Public Theater's Under the Radar Festival (NYC) and the 2009 Sydney Festival, have received rave reviews from critics and audiences.
Performance: Oct 16, 2009

Venue: On the Boards | Seattle, WA

Duration: 60 min

Posted: Nov 18, 2009
Cast & Credits
Performed by
Reggie Watts
Created by
Reggie Watts
Tommy Smith
Directed by
Tommy Smith
Featuring
Noel Allain
Beth Hoyt
Jess Klein
Lighting Design
Seth Reiser
Live Video Design and Editing
Joby Emmons
Dance Choreography
Jess Klein
Stage Management
Corinne Lowenthal
Cinematography (dance film)
Nick Bentgen
Video Harness Design
Kelly Bogan
Cinematography (all other films)
Austin Elston
Cinematography (F.M.G. film)
Joby Emmons
Sound Recording
Emily Gallagher
Original Production Design
Jessica Lynn Hinkle
Podium Design
Michael McQuilken
About The Artist
Reggie Watts and Tommy Smith create absurd experimental comedic theatricals for modern performance spaces. Reggie Watts is the performer, composer, musician and writer while Tommy Smith directs and writes. Transition played at the 2008 Portland Institute for Contemporary Art's (PICA) Time Based Art Festival (TBA)and the 2009 Under The Radar Festival at The Public Theater; it was also the winner of the 2008 MAP Fund Award and 2009 Creative Capital award. Their previous theater piece Disinformation was seen at the 2008 UTR Festival, PICA: TBA 07, The Museum of Contemporary Art (Chicago) and The Warhol Museum (Pittsburgh). Radio Play premiered at Ars Nova (New York) and played at the Seattle Rep during Bumbershoot 2009, and at Redhouse in Syracuse, March 2010. Dutch A/V, a live environmental film performance and winner of the 2009 MAP Fund Award, workshopped at IRT Theatre in New York November 2009. Reggie and Tommy regularly hosted Occurence, a cabaret of alternative performers, which has been seen at Ars Nova, Galapagos, The Tank, Leftbank (Portland) and various unconventional spaces. When not collaborating together, Reggie and Tommy work on their "A-Side" careers, which can be seen at reggiewatts.com and smithsmith.wordpress.com, respectively. They live in Brooklyn and other places.
Here's what Seattle Mag editor/writer Brangien Davis had to say about Transition:
"Know this: it's really funny and really good. Rumor has it Reggie has a Comedy Central special in the works, so if you're one of those people who loves to say, "I saw him before he got huge," this is your chance."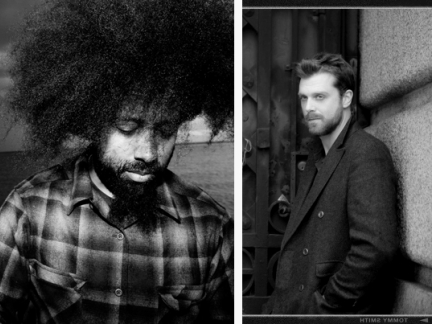 Photo: Reggie Watts & Tommy Smith
Reviews
Check out this sweet online comic about OtB alum Reggie Watts! Created by Seth Kushner, as part of the Culture Pop series. Be sure to flip through the whole story.
Embed Code
Paste this code onto your website to share the Vimeo hosted trailer for this performance.