Radoslaw Rychcik | Stephan Zeromski Theatre
In the Solitude of Cotton Fields
Styled like an Eastern European punk concert, director Radosław Rychcik's contemporary spin on In the Solitude of Cotton Fields features two actors in chic suits backed by a house band, The Natural... More
About this performance
In the Solitude of Cotton Fields
Styled like an Eastern European punk concert, director Radosław Rychcik's contemporary spin on In the Solitude of Cotton Fields features two actors in chic suits backed by a house band, The Natural Born Chillers. Based on the French play of the same name by Bernard-Marie Koltès, the action follows an illicit, unnamed deal expressed between men known only as The Dealer and The Client. Featuring a cast from the Stefan Zeromski Theatre of Kielce, Poland.
Performance: Jan 14, 2011

Venue: On the Boards | Seattle, WA

Duration: 75 min

Posted: Apr 13, 2011
Cast & Credits
Director
Radosław Rychcik
Playwright (written 1987)
Bernard-Marie Koltès

Set Design
Marta Stoces
Manager/Translator (English)

Dorota Sobstel
Actor
Tomasz Nosinski
Actor
Wojciech Niemczyk
Lighting Design
Mariusz Ciesielski

Assistant to the Director
Dorota Sobstel
Translator (Polish)

Marian Mahor
Manager of the Stefan Zeromski Theatre
Władyslaw Jankowski
Sound Design

Grzegorz Kaczmarczyk
Natural Born Chillers
Maciej Matysiak
Bartosz Ignor
Michał Lis
Piotr Lis
About The Artist
Radosław Rychcik emerged from the exceptionally strong theater scene in Poland and is becoming one of the "it" boys of international theater for his use of an intense acting technique and simple yet specific stage design. Rychcik has directed shows by Bertolt Brecht (Versus: In the Jungle of Cities), Roland Barthes (Fragments: A Lover's Discourse) and recently premiered an adaptation of Gustav Flaubert's Madame Bovary. His work has been shown at Under the Radar (NYC) and will also travel to the Portland Institute for Contemporary Art, REDCAT (LA) and the PuSH Festival (Vancouver BC).
"The Chillers' feverish, rave vibe is instantly mesmerizing." – Seattle Times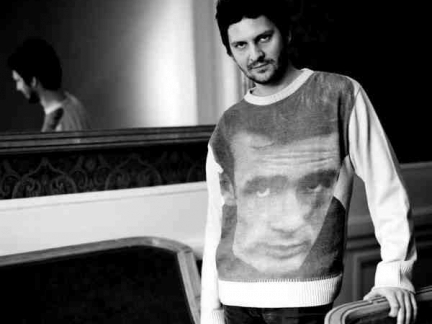 Reviews
A Couple Final Radoslaw Rychcik Reviews
Radoslaw Rychcik and company have just rounded out their North American tour with a final stop at the excellent PuSh Festival in Vancouver BC (check out what they have going on for the remainder of the festival). Since their departure a couple more reviews have been published:
[Washington Ensemble Theatre's Noah Benezra sent us a blog AND posted a blog conversation with another ensemble member on the WET blog. Read that conversationhere!]
Here's a sampling of the comments I received in my inbox today:
Embed Code
Paste this code onto your website to share the Vimeo hosted trailer for this performance.