Findlay//Sandsmark
biograph, last year was pretty//sh*tty
With a passing nod to Beckett's Krapp's Last Tape and a swipe at the age of selfies, this theater/dance performance examines the very moment something or someone is captured, recorded and... More
About this performance
biograph, last year was pretty//sh*tty
With a passing nod to Beckett's Krapp's Last Tape and a swipe at the age of selfies, this theater/dance performance examines the very moment something or someone is captured, recorded and then memorialized through technology. In an age where pictures and film are frequently doctored, Findlay//Sandsmark draw a line between the fragile image and the fallibility of memory.
Featuring performances by Norwegian choreographer Marit Sandsmark and Klaus Kinski look-alike Joey Truman, a relentless live sound score by Pål Asle Pettersen, and text from Artforum/New York Times critic and poet Claudia La Rocco.
Performance: Nov 20, 2015

Venue: On the Boards | Seattle, WA

Duration: 102 min

Posted: Jul 19, 2016
Cast & Credits
Created By
Findlay//Sandsmark
(Iver Findlay and Marit Sandsmark)
With
Paal Asle Petterson,
Joey Truman,
Ruud van den Akker,
Jean-Vincent Kerebel,
Jim Dawson

In Coversation/Collaboration With

Claudia La Rocco,
Victor Morales
About The Artist
Findlay//Sandsmark (F//S) is a Norway-based performance company working across the disciplines of dance, theater, live music and video art. For the past five years the constellation of Iver Findlay and Marit Sandsmark have created several productions in the borderland between performing arts and installation, bending connections and correlations between disciplines to create live art that resonates from a physical and emotional plane. In that brief time, they have made five large-scale performances: now and nowhere else (2010), fractured bones/ let's get lost (2011/2012), biograph, last year was pretty/shitty (2013/2014), o' death (2014/2015), and (re)remember study (2015/2016) as well as several other shorter pieces/installations.
For each project they invite new collaborators to work with them in an open, process-based approach, such as: Catherine McRae, Diane Madden, Eric Dyer, Joey Truman, Victor E. Morales, Ruud van den Akker, Jim Dawson, Claudia La Rocco, Jason Rogenes, and Anna Daniell.
Their work has been presented internationally, including at PS122, Abrons Arts Center, and the Performing Garage in New York City, La Esquina in Kansas City, and in regular collaboration with Black Box Teater, Bit Teatergarasjen, and Teater Avant Garden in Norway. This past November biograph, last year was pretty/shitty was presented by On the Boards in Seattle. Their film collaboration with Young Jean Lee, here come the girls, was part of the Sundance (US), Lacarno (CH) and BAM (US) film festivals. Their current project returner will premiere at Black Box Teater's Oslo International Teater Festival and Bit Teatergarasjen in March 2017.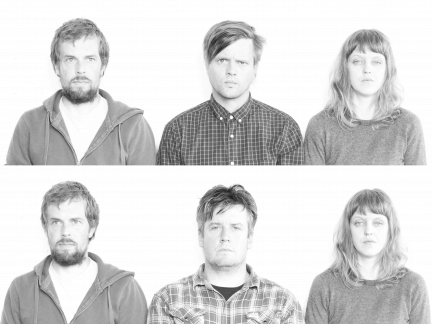 Photo: Pål Asle Pettersen, Joey Truman, Iver Findlay, Marit Sandsmark
Reviews
"...a visual and aural landscape of buzz, fuzz, crackles, rumbles and mumbles..." - The New York Times Style Magazine
"With this piece, Findlay//Sandsmark & Co. explore the ways in which we try to frame our experiences" - The Stranger
Embed Code
Paste this code onto your website to share the Vimeo hosted trailer for this performance.