Antoine Defoort & Halory Goerger
Germinal
How serious is the entirety of human civilization? Four intrepid individuals begin with a blank stage and gleefully rebuild life as we know it. Their tools include mind melds, pickaxes,... More
About this performance
Germinal
How serious is the entirety of human civilization?
Four intrepid individuals begin with a blank stage and gleefully rebuild life as we know it. Their tools include mind melds, pickaxes, microphones, electric guitars, and four-part harmony.
Ingeniously remaking social codes, laws of physics, philosophy, music, and human communication, Germinal posits the theory that human civilization may be just one big theater trick.
This layered study in theater magic is one of the most talked-about shows on the international arts circuit. In French with English surtitles.
Performance: Sep 26, 2014

Venue: On the Boards | Seattle, WA

Duration: 90min

Posted: May 1, 2015
Cast & Credits
Conception & Direction:
Halory Goerger
and Antoine Defoort
With
Arnaud Boulogne,
Ondine Cloez,
Antoine Defoort,
Halory Goerger,
and the voice of
Mathilde Maillard
Technical Direction & Stage Manager

Maël Teillant

Lighting and Stage

Sébastien Bausseron

Sound and Stage

Robin Mignot

Set Construction
Christian Allamano,
Cédric Ravier,
and Danny Vandeput
Production Manager & Outside Eyes
Julien Fournet
Production Assistant
Mathilde Maillard
Administration
Sarah Calvez
Logistics
Pauline Foury




About The Artist
DEFOORT AND GOERGER hail from France. They are musicians, actors, philosophers, pranksters, artists, and inventors. They excel at mixing genres, upending social codes, and not taking themselves too seriously. Their super-clever mix of visual art, theater, music, and sociology marked them as rising stars at the 2013 Avignon Festival.
Halory Goerger makes shows andinstallations instead of building houses or repairing animals because it's betterlike that for everybody. He works on the history of ideas, because everything else was already taken bythe time he came along. In most hisundertakings, total destitution flirts with formal rigour, and a concern for getting out alive. He cofounded l'amicalede production.
Antoine Defoort tries to maintain a good atmosphere and a high level of porosity betweenhis seasonal whims, life, as in real life,and contemporary art. He therefore often finds himself struggling with blatant contradictions that are either proudly assumed or shamefully hidden through the use of mind numbing non-sequiturs and wild digressions. Failures and accidents are welcomed with open arms and create a crispy granularity particularly appreciated by connoisseurs.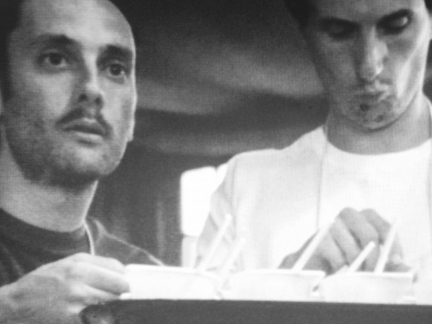 Photo: Antoine Defoort and Halory Goerger
Embed Code
Paste this code onto your website to share the Vimeo hosted trailer for this performance.