Chris Schlichting
Stripe Tease
Crafting a deeply satisfying mix of patterns and set structures, large-scale spectacle and delicate intimacy, recurrence and surprise, Schlichting's newest work Stripe Tease embraces and slyly... More
About this performance
Stripe Tease
Crafting a deeply satisfying mix of patterns and set structures, large-scale spectacle and delicate intimacy, recurrence and surprise, Schlichting's newest work Stripe Tease embraces and slyly subverts dance history. Schlichting creates a beautifully designed, meticulously constructed dance world combining movement, visual art, and music.
Stripe Tease collaborators include rock/pop guitarist Jeremy Ylvisaker (Andrew Bird) and his band Alpha Consumer (with Mike Lewis and JT Bates), whose repetition of musical phrasing is a perfect foil for Schlichting's movement art. Also featuring work by Minnesota-based visual artist Jennifer Davis, whose collages and paintings strike a magical balance between childlike playfulness and dark yearnings.
"The world Schlichting reveals is full of clever kinetic asides, streamlined beauty, hints of mischief and thoughtful juxtapositions." —Star Tribune
Filmed at the Salvage Vanguard Theater
Presented by the Fusebox Festival
Performance: Apr 11, 2015

Venue: Salvage Vanguard Theater | Austin, TX

Duration: 60 min

Posted: Mar 22, 2016
Cast & Credits
| | |
| --- | --- |
| Choreographed by | Chris Schlichting in collaboration with the performers |
| Performances by | Dolo McComb, Dustin Maxwell, Krista Langberg, Laura Selle Virtucio, Max Wirsing, and Tristan Koepke |
| Sound by | Jeremy Ylvisaker and Alpha Consumer, with JT Bates and Mike Lewis |
| Visual Design and Installation by | Jennifer Davis |
| Lighting Design by | Joe Levasseur |
| Costumes by | Chris Schlichting |
About The Artist
Chris Schlichting is a Minnesota-based choreographer and performer creating work that begins with movement impulses and then accumulate carefully measured layers of cultural sources and influences. Believing in a nimble and flexible definition of dance, he strives to unearth compelling examples that strike an uncertain balance between formal investigations and earnest expression; between large-scale spectacle and delicate intimacy; between dance conventions of presentational styles and elaborate ritual to simple moments of exposed vulnerability.
Schlichting was named Best Choreographer in 2013 by Minneapolis-St. Paul City Pages for his work Matching Drapes, which also received two Sage Awards, including one for "Best Performance" and one for "Best Design". He is the first recipient of the American Dance Institute's (Rockville, MD) Commissioned Artist award, a new project that provides commissioning funds, fiscal sponsorship, developmental and production support for a new work from one U.S. based choreographer every year.

Schlichting has been presented by venues throughout Minnesota, including the Southern Theater, the Bryant Lake Bowl, the Red Eye Theater, the Walker Art Center and many more; in New York at Danspace Project and as a frequent contributor to CATCH! performance series; at ODC in San Francisco, CA; and at Velocity in Seattle, WA. He often collaborates with Morgan Thorson, including performances in Faker and Heaven, both of which enjoyed illustrious tours throughout the U.S. and for Faker also in Daejeon, South Korea.

Schlichting's work has been commissioned by Danspace Project at St. Marks (by Tere O'Connor for Food for Thought, by Judy Hussie-Taylor for the Body Madness Platform), James Sewell Ballet (Ballet Works Project), the Walker Art Center (The Momentum Series, the 25th Sculpture Garden Celebration, and for a new work in the 2014/15 performance season), The Southern Theater, Young Dance, and Zenon Dance Company. He was selected to participate in the Regional Dance Development Initiative (RDDI) and the Minnesota Contemporary Dance Platform (MCDP) and for the upcoming Dance USA Conference in June of 2014.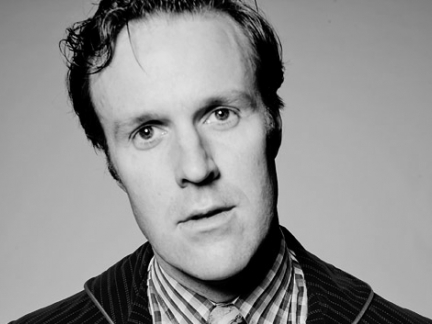 Photo: Chris Schlichting by Cameron Wittig
Reviews
"Stripe Tease filled every nook, cranny, rafter and balcony with movement, sound and light." - Star Tribune
"...the dance is able to blur the lines between abstract and meaning..." - Twin Cities Daily Planet