Theatre Replacement / Neworld
Winners and Losers
Theater artists and longtime friends Marcus Youssef and James Long sit at a table and play an invented game called winners and losers. In it, they name people, places or things— Pamela Anderson,... More
About this performance
Winners and Losers
Theater artists and longtime friends Marcus Youssef and James Long sit at a table and play an invented game called winners and losers. In it, they name people, places or things— Pamela Anderson, microwave ovens, their fathers, Goldman Sachs, Mexico — pronouncing each one winner or loser. Their game turns personal as they mercilessly dissect each other's families, privileges and class backgrounds. The competition quickly heats up, resulting in an intimate and blisteringly honest performance.
An intimate and revealing story about two good friends who "are forced to take a frank look at their lives through a made-up game."
- The New York Times
Performance: Apr 25, 2014

Venue: On the Boards | Seattle

Duration: 95 min

Posted: Sep 18, 2014
Cast & Credits
Written and performed by
Marcus Youssef
and James Long
Directed by
Chris Abraham
Lighting by
Jonathan Ryder
Stage and Production management by
Elia Kirby




About The Artist
James Long and Marcus Youssef are stalwarts of Vancouver BC's theater scene. Their companies, Theatre Replacement and Neworld Theatre, have been responsible for dozens of original works and innovative engagements. Both companies are OtB alums whose past appearances at OtB include Sexual Practices of the Japanese (2007), The Adventures of Ali & Ali and the Axes of Evil(2007), That Night Follows Day (2009) and How to Disappear Completely (2013).
James Long (writer/performer) founded Theatre Replacement with Maiko Bae Yamamoto in 2003. The company's work has been presented in multiple cities across North America and Europe and includes Clark and I Somewhere in Connecticut, Sexual Practices of the Japanese, Train, BIOBOXES: Artifacting Human Experience, WeeTube, and Dress me up in your love among others. James has taught performance and methods of creation to established artists across Canada and to students at The University of British Columbia, The University of Regina, Simon Fraser University, Studio 58 and Seattle's Cornish College of the Arts. As a freelance artist he has worked as a director, writer and actor with Rumble Productions, Neworld, urban ink, The Only Animal, Boca Del Lupo, The Chop Theatre, CBC radio and The Electric Company, among others. He is a graduate of SFU's School of Contemporary Arts.
Marcus Youssef's (writer/performer) plays and performance events include Ali and Ali & the aXes of Evil, How Has My Love Affected You?, A Line in the Sand, Peter Panties, Jabber, and Adrift. They have been performed at festivals and theatres across North America, Europe and Australia, and are published by Talonbooks and Playwrights Canada Press. Marcus has been artistic director of Neworld Theatre since 2005, and co-founded the East Vancouver artist-run production centre Progress Lab 1422 in 2009. He sits on the advisory board of the Canadian Theatre Review, and is currently co-chair of the City of Vancouver's Arts and Culture Policy Council. Marcus' work is the recipient of the Rio-Tinto Alcan Performing Arts award, the Chalmers' Canadian Play award, the Seattle Times Footlight award, and numerous local theatre awards in Vancouver, Montreal and Toronto.
Theatre Replacement is an ongoing collaboration between James Long and Maiko Bae Yamamoto. Whether working together or apart, we use extended processes to create performances fromintentionally simple beginnings. Our work is about a genuine attempt to coexist. Conversations, interviews and arguments collide with Yamamoto and Long's aesthetics resulting in theatrical experiences that are authentic, immediate and hopeful.

Neworld Theatre creates, produces, and tours new plays and performance events. We tell stories that are as complicated and contradictory as the enormously small country we live in.Historically, our work is rooted in an experience of ethnic and cultural diversity. While diversity remains a core value, our programming now asks a broader range of questions about political responsibility, identity, and difference. We ask artists and audiences to embrace work which challenges assumptions about the nature of theatre and its function in the world.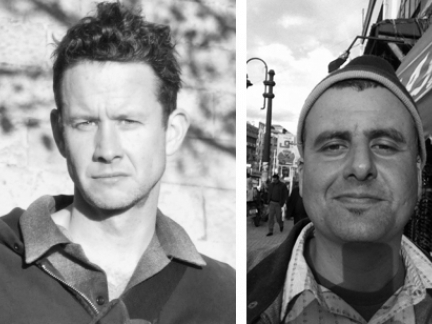 Photo: James Long and Marcus Youssef
Reviews
"...as exciting and engaging as theatre gets." - The Sunbreak
"Partly scripted and partly improvised, the piece's dramatic tension accumulates in the same way that capital does: by seeing just how far, and at what cost, one person will go to beat another--even a close friend." - Performance, Place and Politics
Embed Code
Paste this code onto your website to share the Vimeo hosted trailer for this performance.