Allen Johnson
Another You
Humorous, fierce and poignant, Allen Johnson draws from his experience as a visual artist, poet, truck driver and boiler mechanic to create a solo performance exploring the recklessness and... More
Extras
About this performance
Another You
Humorous, fierce and poignant, Allen Johnson draws from his experience as a visual artist, poet, truck driver and boiler mechanic to create a solo performance exploring the recklessness and vulnerability needed for an intimate encounter with God, a lover, or oneself. Directed by Sean Ryan, Another You is a series of brutally honest, interwoven monologues exploring our primal need for intimacy. After its premiere at the Portland Institute for Contemporary Art's TBA Festival and a sold-out run at On the Boards, Another You toured to Frankfurt, Leipzig, Berlin, Glasgow, and to The Public Theater in New York, where a reviewer for nytheatre.com called it "the single most powerful thing I've seen on stage in years."  Matthew Stadler, writing in ArtForum, called Another You "as richly transporting as a great novel."
Performance: Nov 16, 2005

Venue: On the Boards | Seattle, WA

Duration: 70 min

Posted: Nov 18, 2009
Cast & Credits
| | |
| --- | --- |
| Written and Performed by | Allen Johnson |
| Directed by | Sean Ryan |
| Sound Design by | Justin Gerardy |
| Light Design by | Michael White Hayes |
About The Artist
Allen Johnson left Rutgers to paint in encaustic, crayon & pencil. Worked as a truck driver in NYC. Thought to drive west. Spent much of the 1990's traveling the United States, performing monologues and spoken word pieces at venues from New York City's ABC No Rio to San Francisco's Paradise Lounge. Private study with Robert Creeley in '94. Johnson has several published works including, Love Is The Last Taboo (Vendetta Books), Highland Park (Last Night Press) and American Sentences (Via Sophia Press).
"... Allen Johnson's Another You is the single most powerful thing I've seen on stage in years. The big picture of the show is that of a man exploring his less-than-traditional relationship with sex, partly as the result of an abusive childhood. It is a hard-hitting story, but the power comes not from the shock value of abuse, but rather from the simple way in which the teller conveys his story." – nytheatre.com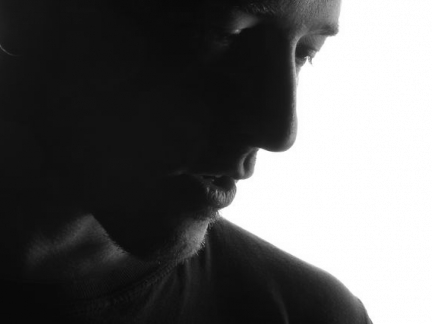 Reviews
"I began to understand...Another You as a purgative act in and of itself..." - Drama Lit Blog 2.0, BU School of Theatre
Embed Code
Paste this code onto your website to share the Vimeo hosted trailer for this performance.