Markeith Wiley
It's Not Too Late
The merciless humor of comedian and social critic Paul Mooney is channeled in a fast-paced and ruthless new work merging stand-up comedy, theater, and physicality. Billing himself as "Seattle's... More
About this performance
It's Not Too Late
The merciless humor of comedian and social critic Paul Mooney is channeled in a fast-paced and ruthless new work merging stand-up comedy, theater, and physicality. Billing himself as "Seattle's first Black talk show host," choreographer and performer Markeith Wiley unveils a new, no-holds-barred persona as an engaging, brutally direct entertainer and loquacious dancer. Featuring live guests and a house DJ, It's Not Too Late is a timely capsule of emotional resignation around race immediately following the 2016 presidential election.
Performance: November 16, 2016

Venue: On the Boards | Seattle, WA

Duration: 1 hour, 22 minutes

Posted: Nov 21, 2017
Cast & Credits
| | |
| --- | --- |
| Conceived and Performed by | Markeith Wiley |
| Direction | Hatlo & Markeith Wiley |
| Music | Keith White |
| Lighting Design | Meg Fox |
| Choreography | Markeith Wiley |
| Production/Stage Manager | Cait Wyler |
| Shadow | Chloe Albin |
| DJ Houseband | Keith White |
| Jodie | LoraBeth Barr |
| Jimmy | Nikolai Lesnikov |
| Dushawn Brown | Markeith Wiley |
| | |
About The Artist
California native Markeith Wiley is a dance maker, performer and instructor of many styles in the greater Seattle area. Wiley holds a BFA in Dance from Cornish College of the Arts and has performed with Keith Henessesy, Kitten n' Lou, The Dance Cartel, Lingo and more. His vast movement vocabulary spans a lifetime of influences, from breakdancing and hip-hop to contemporary and theatre dance. Wiley was a member of the 2014 City Arts Future List; he's danced at venues all over Seattle including Spectrum, Velocity and On the Boards, and choreographed for theatre groups WET and the Satori Group.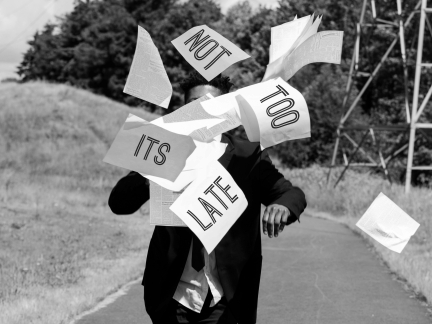 Photo: OTB_1617Season_MarkeithWiley_photobyJosephLambert_JazzyPhoto2
Reviews
It took a while for me to find the right words to process to Markeith Wiley's It's Not Too Late. But watching it, I constantly thought of the poem "It Doesn't Feel Like A Time to Write" by black poet Danez Smith of St. Paul, Minn. This response is a re-imagining of Smith's words.
In any social context, labeling is a convenient shorthand, a way to quickly convey a condensed idea to another person. It's fast and easy, but it's also lazy and limiting. Many artists are hybrids these days, but what happens when an artist expands the scope of their work past the point of hyphenating?
by Michelle Peñaloza
I just got home from watching Markeith Wiley's IT'S NOT TOO LATE and my mind is swimming with reactions to the show and to the post-show Q&A—
Embed Code
Paste this code onto your website to share the Vimeo hosted trailer for this performance.