Ahamefule J. Oluo
Now I'm Fine
Comedian/musician/captivating storyteller Ahamefule Oluo leads a team of talented musicians in a grand-scale experimental pop opera about keeping it together. Drawing from darkly funny... More
About this performance
Now I'm Fine
Comedian/musician/captivating storyteller Ahamefule Oluo leads a team of talented musicians in a grand-scale experimental pop opera about keeping it together. Drawing from darkly funny personal stories about illness, despair, and regeneration, Now I'm Fine ranges from intimate to epic, featuring a 17-piece orchestra and a spectacular cast of performers including Okanomodé Soulchilde, Samantha Boshnack, Josh Rawlings, Evan Flory-Barnes, D'Vonne Lewis and many more.
"...a master storyteller who has somehow managed to cram approximately 56 tragic, awkward, hilarious, blistering lifetimes into his 30-odd years." - The Stranger
Filmed at The Moore Theater
Presented by Seattle Theatre Group
Performance: December 4th, 2014

Venue: The Moore Theatre | Seattle, WA

Duration: 120 minutes

Posted: Oct 5, 2016
Cast & Credits
| | |
| --- | --- |
| Music and stories by | Ahamefule J. Oluo |
| Directed by | Ahamefule J. Oluo |
| Lyrics by | okanomodé |
| Written by | Ahamefule J. Oluo and Lindy West |
| String Variations by | Evan Flory-Barnes |
| Vocals | okanomodé |
| Trumpets | Samantha Boshnack, Scott Morning, Bill Jones |
| Trombones | Naomi Siegel, Nathan Vetter |
| Horns | Josiah Boothby, Kyra Sims |
| Tuba | Jon Hansen |
| Harp | Monica Schley |
| Rhodes and Piano | Josh Rawlings |
| Bass | Evan Flory-Barnes |
| Drums | D'Vonne Lewis |
| Violin | Alex Guy |
| Viola | Brianna Atwell |
| Cello | Maria Scherer-Wilson |
| Set Design | Jennifer Zeyl |
| Lighting Design | Brian Engel |
| Live Sound | Matt Starritt |
About The Artist
Ahamefule J. Oluo is a Seattle-based musician, composer, writer, and stand-up comedian. Oluo is a founding member of and trumpet player in the Stranger Genius Award-winning jazz-punk quartet Industrial Revelation, and was featured in City Arts Magazine's 2013 Future List as one of Seattle's most promising artists. Oluo has collaborated with such diverse acts as Das Racist, Macklemore, Hey Marseilles, and TacocaT. He was a semi-finalist in NBC's Stand Up for Diversity comedy competition, and co-produced comedian (and writing partner) Hari Kondabolu's albums Waiting for 2042 and Mainstream American Comic, for Kill Rock Stars. He was the first ever artist-in-residence at Seattle's Town Hall, and in 2015 he appeared on This American Life and received a Creative Capital Award. In 2016 Oluo was awarded Artist Trust's Arts Innovator Award, and the performance of his autobiographical musical Now I'm Fine at the Public Theater in New York City was called "dizzying," "engaging," and "grand" by the New York Times.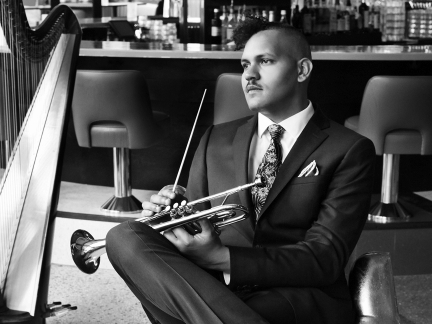 Photo: Ahamefule J. Oluo by Kelly O.
Embed Code
Paste this code onto your website to share the Vimeo hosted trailer for this performance.