Degenerate Art Ensemble
Predator Songstress
A fierce band of Seattle-based artists presents an intensely visual, music-driven theatrical event. Predator Songstress is a modern-day fairy tale of an anti-heroine in search of her stolen... More
About this performance
Predator Songstress
A fierce band of Seattle-based artists presents an intensely visual, music-driven theatrical event. Predator Songstress is a modern-day fairy tale of an anti-heroine in search of her stolen voice, set in a world where the tools that are used to stifle and control are appropriated as means for individual realization. Prepare your eyes and ears for otherworldly visuals, gorgeous vocals, incredible costumes, merrily creepy earworms, and a singular butoh-meets-anime vision.
In conjunction with the work, Degenerate Art Ensemble (DAE) collaborated with Seattle's Path With Art and San Francisco's Central City SRO Collaborative. During workshops with individuals recovering from homelessness DAE and participants explored the power of 'voice' in their lives. These participants were integrated into the performance as audience interviewers during intermission, the resulting stories were then woven into the second act of the live performance.

Performance: Dec 4, 2015

Venue: On the Boards | Seattle, WA

Duration: 87 min

Posted: Jun 23, 2016
Cast & Credits
Co-Artistic Directors

Haruko Crow Nishimura & Joshua Kohl
Live Video Design, Film Direction
Leo Mayberry
Cinematography, Documentation
Ian Lucero
Scenic Design
Neal Wilkinson
Lighting Design
Jessica Trundy
(with elements of YBCA premiere design by Ben Zamora)
Costume Design
Alenka Loesch
Modeled Landscape Imaging
Kevin Scott & Olsen Kunding Architects
Video Production Design
Elizabeth Jameson

Songs and Lyrics

Joshua Kohl and Haruko Crow Nishimura

THE CAST
Choreographer/Director, Performer (Ximena)
Haruko Crow Nishimura
Performer (Xavier)
Douglas Ridings
Vocals (The Lieutenant)
Okanamod

é

Voice, Violin (Commander La Loba)
Paris Hurley
Music Director, Lead Composer
Joshua Kohl
Guitar, Electronics, Sound Design Associate Music Director, Guitar, Electronics, Electronic Composition, Sound Design
Benjamin Marx
VIDEO CAST
Sheri Brown, Alenka Loesch, Jan Trumbauer, Mizu Desierto, Pris Hurley, Haruko Crow Nishimura, Paul Budraitis, Tito Titus, Alan Lau, Alan Maskin, Alan Sutherland, Pol Rosenthal, Mark Lewin, Mark Dalton, Pat Ford, Christian Swenson
PATH WITH ART INTERVIEW TEAM
Mary F. Moody, Melodie Clarke, Phyron Berkins, Paul H. Otis
INTERVIEW STAFF
Jan Trumbauer, Pol Rosenthal, Sarah Lippek, Wylie Astley, Lila Hurwitz, Willow Fox, Devin Bannon
PRODUCTION STAFF
Technical Director, Scenic Builder, Fabricator
Colin Ernst
Stage Manager
Michael Joseph Hanley
Fabricator
Rusty Oliver
Carpenter
Carlos Sandate
Video Assistant
Lane McCabe
About The Artist
Degenerate Art Ensemble creates performance inspired by punk, comics, cinema, nightmares and fairy tales driven by live music and their own style of visceral movement theater and dance. Their work is an exorcism through collision and conflict challenging how they see audience, architecture, music, story, myth and reality. It comes out of a deep desire for communion and soul-exchange and transformation and a discovery of how art can find a deeper meaning in the larger society.
Degenerate Art Ensemble has toured throughout the US and Europe and are known for their large scale dance and theater projects, concerts, site-transforming spectacles and ongoing public experimentation. Recent highlights of the group's work include a major exhibition at the Frye Art Museum in 2011, a commissioning by director Robert Wilson to interpret his work Einstein on the Beach in 2012, and a collaboration with the Kronos Quartet in 2013. In 2012 Degenerate Art Ensemble was commissioned by the city of Seattle to create a large-scale site specific work Underbelly with Olson Kundig Architects to celebrate the 50th anniversary of the Seattle World's Fair. The group's most recent work Predator Songstress premiered at the Yerba Buena Center in San Francisco in 2015 followed by a presentation at On the Boards in Seattle with plans to show New York in November of 2017. In December of 2016 DAE will team up with Czech rock legends Uz Jsme Doma for an epic orchestral work inspired by the music of Uz Jsme Doma and the music of Degenerate Art Ensemble for a concert at the Archa Theatre in Prague followed by a performance in Seattle in the spring of 2017.
Degenerate Art Ensemble has been presented in North American and Europe by On the Boards (Seattle), REDCAT (L.A.), New Museum (N.Y.), Archa Divadlo (Prague), T.F.F. Festival (Germany), the Baryshnikov Center (N.Y.), Yerba Buena Center (San Francisco) and others.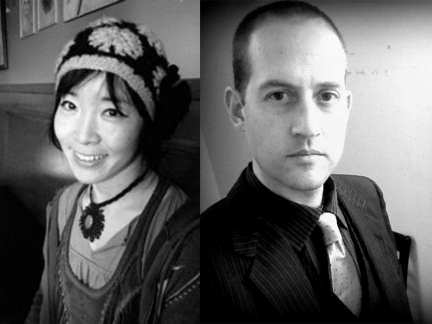 Photo: Haruko Crow Nishimura & Joshua Kohl